If your business is not taking full advantage of text marketing — also known as SMS and MMS marketing — then you are missing out on a massive opportunity to drive customer engagement, acquisition, and sales. Consider these eye-opening statistics:
And just in case you think that "texting is obsolete" — think again: 50% of people sent more texts during the pandemic, and due to COVID-19 34% of businesses added text as a digital channel to connect with customers. The takeaway from this is clear: if your business is not taking full advantage of text marketing, then your competitors are or will.
Still not convinced? Here are seven key benefits of text marketing:
Text Marketing Benefit #1: Texts Drive Customer Engagement
A whopping 98% of text messages get opened. What's more, text marketing has up to a 30.5x higher clickthrough rate (CTR) compared to email marketing, and a recent study on mobile coupons found that 25% of consumers would redeem a mobile coupon within three days, and 60% of consumers would redeem a mobile coupon within a week — which is faster than coupons delivered through email.
Text Marketing Benefit #2: Texts are Cost-Effective
Unlike pay-per-click (PPC) ads or conventional advertising and marketing, sending texts — either 1 or 10,000 — is incredibly affordable. There is no "pay-per-text" fee.
Text Marketing Benefit #3: Texts are Mobile-Friendly
Research has found that 97% of Americans now own a smartphone, and 15% of these people are smartphone-only Internet users — which means they do not have traditional home broadband service. What's more, U.S. consumers now spend an average of 5 hours per day on mobile devices — which is an hour more than in 2015. Businesses that use text marketing tap into this enormous and growing pool of customers.
Text Marketing Benefit #4: Texts are FAST!
Depending on how their email software program is configured, it can take anywhere from a few seconds or several minutes for a recipient to receive an email. For businesses that want to send time-sensitive bulletins (e.g. "our office will be closed due to the major storm but we are still available by phone") or offer flash promotions and giveaways (e.g. "we're giving away a free backup power supply to the first 10 customers who respond to this message!"), this delay can ultimately lead to frustrated customers vs. impressed ones.
With text marketing, this delay is typically non-existent. As long as recipients have their smartphone-powered on and they have cellular/Wi-Fi connection, then they will get the text immediately.
Text Marketing Benefit #5: Texts Integrate with Other Channels
Text marketing doesn't have to work in isolation. It can integrate seamlessly with other channels like social media to drive engagement. For example, a business can send out an SMS message inviting customers to check out a new YouTube video, Facebook poll, blog post, and so on.
Text Marketing Benefit #6: Texts Boost Loyalty and Increase Lifetime Customer Value
A study found that customers prefer SMS/MMS marketing for loyalty-based messaging, including promotions and updates. This insight is especially important, considering that it costs 5x more to attract and acquire new customers vs. sell to existing ones.
Text Marketing Benefit #7: Texts Make it Easy for Customers to Opt In/Opt Out
At first glance, this last key benefit may seem a bit strange. Does it really matter if customers can easily opt in/opt out of text marketing? The answer is a definitive YES!
Those that opt-in are saying "we're eager to receive SMS/MMS messages and are ready to be impressed," while those that opt-out are saying "we're not interested in text marketing at this time." With either response, businesses improve the accuracy of their distribution lists, which is critical for determining the impact and ROI of marketing campaigns. And on top of this, Federal laws require businesses to make it simple and fast for individuals to opt-in/opt-out of text marketing.
We Can Help You Reap ALL the Rewards of Text Marketing!
With our all-in-one cloud phone system solution, you can send/receive SMS and MMS messages through the Carolina Digital Phone online portal, or our smartphone app. All texts are automatically stored in the "Messages" section of the portal or the mobile app, so that employees can easily manage multiple conversations in a single interface.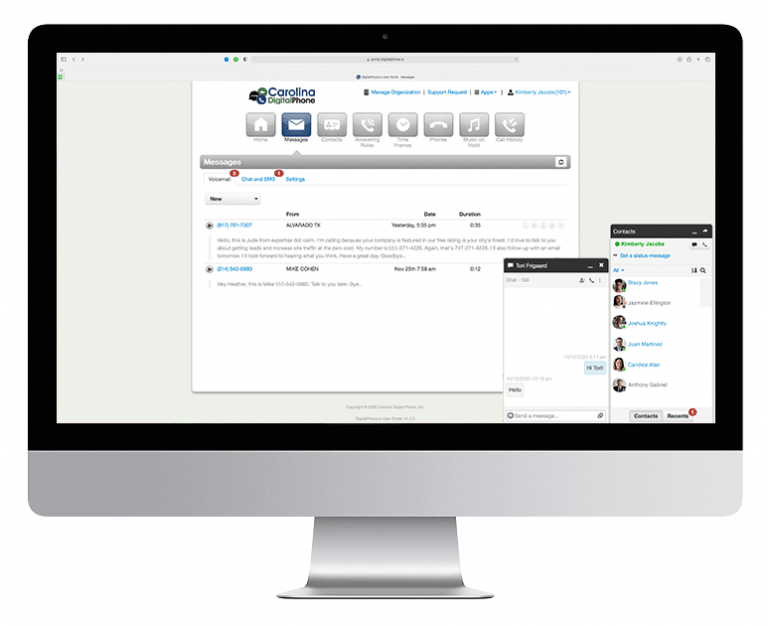 What's more, when your employees send SMS and MMS messages through our extremely easy-to-use smartphone app, your business's name and number will appear on your customers' devices — not your employees' personal name and number, even if they are using their personally-owned smartphone instead of a corporate-supplied smartphone. This is not just important to protect employee privacy, but it leads to much higher open rates. For example, a customer is much more likely to read a text message from "Main Street Dentistry" than they are from "Sue Smith" — because they may not know or recall that Sue Smith is the office administrator at Main Street Dentistry!
Schedule a Demo
Learn more by scheduling a live guided demo of Carolina Digital Phone's all-in-one cloud phone system with built-in text marketing functionality. And if you decide to implement our solution, be assured that switching is hassle-free, and we can transfer all your business phone numbers and fax numbers. We also offer a 100% money-back guarantee — so there is NO RISK to you at all! Call us at (336) 544-4000.